Lithium-7 (7LiOH-H2O)
Lithium-7 as Hydroxide Monohydrate (7LiOH-H2O)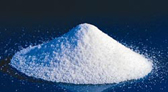 REFERENCE SPECIFICATIONS
Atom fraction of Lithium-7 in the total sum of lithium isotopes (%)
>99.9
Mass fraction of lithium hydroxide (%)
52 min; 58 max
Water fraction of total mass (%)
42 min; 48 max
Impurity Limits (Element and Max PPM)
Lead
Zinc
Mercury
Chloride
Sulfates
Sodium
Fluoride
Iron

≤10
≤5
≤0.5
≤500
≤250
≤30
≤100
≤10
Visual Appearance
Loose powder of white-to-pale-yellow color
Packing of one or more lots per shipment is permitted.

Actual specifications are subject to quotation.
Please contact us if you require different specifications.
Lithium-7 as Hydroxide Monohydrate (7LiOH-H2O) is mainly used in the nuclear power industry as an alkalizing additive to the coolant of the primary circuit of PWR-reactors to adjust water-chemistry pH. It is also used as the main component in ion-exchange membranes in water treatment applications.